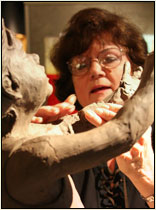 Marian Flahavin's work has always been an expression of her love of and fascination with the human figure - most importantly the spirit, the "life" that makes the figure who it is, as well as it's bone and muscle forms. She has been drawing people as long as she can remember. In recent years her pastels have been included in major juried and invitational shows all over the United States. Her projects range from an oil portrait of the founder
of the University of Washington Law Library to a series of bronze garden fountain sculptures, including the most recent, a solar lighted "Fireflies" and "Fireflies Too".
Perhaps best known for her children, she had done a series for collector plates and matching figurines for Goebel of Germany. Paintings and prints benefit the local Ronald McDonald House, Valley General Hospital and St. Ann's Children's Home. A garden sculpture benefits Morning Star Boys Ranch, as well as a painting. A large tapestry painting was done for a church is Salt Lake.
She was accepted by the prestigious Pastel Society of America in l982 and was designated a signature member in l99l. She is also a signature member of the Pastel Society of the West Coast and the Northwest Pastel Society. She is included in "Who's Who in American Art," "Who's Who in America" and "Who's Who of American Women", and is a State Ambassador for the Portrait Society of America. In 2015 she was named 'Fellow Maxima Cum Laude' by the American Artists Professional League a national art organization in New York City.
She recently won two national awards, the Gold Medal Art Spirit award (2007)
and the Jack Richeson Award (2006) in the American Artists Professional League Grand National Show in New York. Other major juried shows in which her work has been exhibited or awarded include a Pastel Society of America's Invitational at Butler Institute of American Art in Youngstown, Ohio, four Salmagundi Annuals, three Pastel Society of America Annual, six American Artists Professional League Annuals, and six Catherine Lorillard Wolfe Annuals, all in New York City, and the first International Association of Pastel Societies Show in Denver.
Bronze garden sculptures for the garden are currently represented by Garden Accents Gallery - 4 Union Hill Road, West Conshohocken, PA 19428 (near Philadelphia), and The Painters Chair in Coeur d'Alene, Idaho. Her portraits are available through her studio.