Happy Spring at last!
At least I hope that it is almost here. We could use some.
I will have to quickly bring you up to date as my posts below of the Museum Auction were last Spring (2012).  In the meantime my e-mail was hacked and my entire address book and 1 1/2 years worth of e-mails were totally deleted.  So I have been slowly digging all that up and restoring it so I could do this blog in earnest.
Museum Auction 2012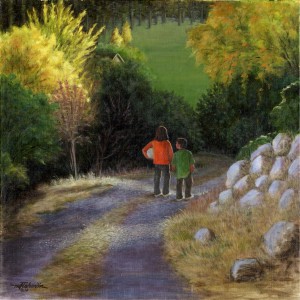 I had two pieces in the 2012 Auction for the benefit of the Museum of Arts and Culture (MAC). The one pictured  was in the Main Auction and is called "The Way Home". It is an oil painting of my two grandchildren walking up our road in the late afternoon in Fall when the surrounding trees are glowing with color and the shadows are rich and deep…and we remind ourselves this is why we live here. We have been here for 40 years and have loved it since we moved here. We are surrounded by deer and moose and all the little animals that are fun…. but eat everything. It is sort of a love/hate relationship I guess. We are on the side of a mountain at the edge of the Valley so we have a little more snow but the views are beautiful.
Another which I was finishing in the "Quick Finish" portion there is called "Summer Afternoon at the Lake." It was finished while the guests are watching, which provides an interesting chance for them to see how paintings happen. This was finished there but it had to be started pretty far ahead because it is layered with many glazes to convey the wateriness of it. Paintings never come quickly to me so I need lead time..and thinking time. I also tend to talk  while demonstrating.
Linda Barnes, the lady that bought it loved it because it reminded her of her grandchildren at Priest Lake. However in talking afterward she said she had two more grandchildren. We decided to add them plus her dog who was usually there with them. I think it might even have improved the composition.  She was thrilled.  I love to do things that mean that much to someone.  Her grandchildren are scattered all over the world but do come to spend time in the summer  the lake.
Sadly Linda passed away some months after we finalized this.  Her family will have this to remember what was important to her.
---